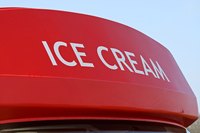 Opening a coffee shop or ice cream shop can be a fairly difficult task. Lots of people drink coffee every morning whether they buy it from their local Starbucks or make it a home with a can of Folgers. Ice cream shops are all over the place, as well. Ice cream shops normally stay open year round in warmer regions of the world. Whether you decide to open a coffee shop or an ice cream parlor, prepare to do paperwork, get permits and pay the required fees.
Things You'll Need
Supplies
Location
Floor plan
Choose a name and location for your coffee shop or ice cream parlor. If opening an ice cream parlor, choose a location that's close to schools, parks and stores so that your business gets noticed among children. If opening a coffee shop, your business should be located on a busy street such as a main street or an area that gets a lot of traffic.
Decide whether you want to open a franchise ice cream parlor or your own ice cream parlor. Popular ice cream franchises include TCBY, Baskin Robbins and Dairy Queen. Opening a franchise requires more capital. If you're opening a coffee shop, decide whether you want to open a franchise coffee shop or start your own brand.
Design a floor plan. Figure out where every item will go in the shop. Hiring a Feng Shui expert can increase the flow of business by finding the right balance and harmony in the way that the furniture is arranged. Design the atmosphere to make it inviting.
Gather the supplies you'll need for your coffee shop or ice cream parlor. You'll need seating for the customers, decorations and a menu marquee. Ice cream parlors require equipment such as blenders, mixers, ice cream scoops, freezers and serving bars. Coffee shop equipment includes coffee makers, espresso machines, coffee shop cups, straws, air pots and coffee supplies such as sugar, cream and milk.
Create a menu of different types of coffees or ice creams, and consider expanding the menu. Breakfast foods, even bagels or muffins, can tempt customers as they await their morning cup. Selling hot dogs and sandwiches in an ice cream parlor is always a good idea. If a parent brings her child in for ice cream, the parent may order a sandwich.
Create unique names for your menu items. Creating a signature ice cream flavor or coffee drink makes your business stand out, and allows customers to get acquainted with the brand of the business.