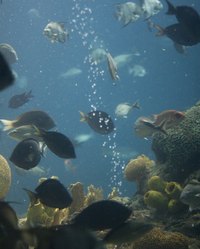 The arowana fish in its juvenile form can be an exotic addition to an aquarium. However, the breed is prone to frighten easily, which can have negative repercussions. Often, after becoming frightened, an arowana will swim rapidly around the cage out of control. In doing so, it can bang against the walls of the aquarium or other items in the aquarium, injuring itself. However, the fish can be calmed by placing it in a smaller environment.
Things You'll Need
Small fish net
Plastic bag
Small aquarium or fish bowl
Isolate the arowana in the aquarium when it becomes frightened. Ideally, keep it away from potentially dangerous items in the aquarium like rocks. The fish can be isolated by cornering it with a net, or by placing a divider into the aquarium if it is large enough.
Capture the arowana with the fish net. Take care not to be too rough with the fish, but it can be difficult captured it while frightened, since it will be prone to swimming around quickly and erratically. Focus on limiting the accessible area for the fish, while gradually backing it into a corner before scooping it up in the net.
Place the arowana in a plastic bag filled with water. The sides of the plastic bag will offer a safer habitat for the fish in its frightened state, as banging against the plastic will do less harm than hitting the sides of a glass aquarium.
Move the arowana to a smaller aquarium or fish bowl once it has calmed from its initial frightened frenzy. Ideally, the other aquarium will have no other fish or items in it, and will be substantially smaller than the original aquarium. Arowana are easily frightened in large, busy aquariums, so placing it in a small, isolated one will help calm it down.
Return the arowana to the original aquarium after it has calmed down. Try to be as delicate as possible with the fish when returning it to the original aquarium, so as to not re-agitate it into a frightened state.