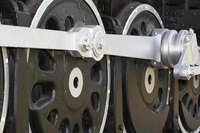 Knowing how to read railroad signal lights is important for safety reasons. Railroads are found all over the world and typically cross roads. As a driver or a pedestrian, it is important to understand what the different signals mean in regard to where the train is and when it is crossing. Railroad signal lights also help the train engineers run trains safely.
Stop at every railroad crossing you come to. There is typically a stop sign at every crossing, but if not, it is good to stop anyway.
Look both ways for trains. Signals are reliable, but for extra safety, look for trains as well.
Look at the railroad signals if they are lit or flashing. A plain green light means all is well and traffic can continue. If the light is plain red it means "stop." For railroad engineers, the red and green lights mean the same thing. If the lights are flashing green over red, it means to go slow and be ready to stop at the next red signal. If the lights are flashing red over green, it means to stop and then go, and to be ready to stop at the next red signal.