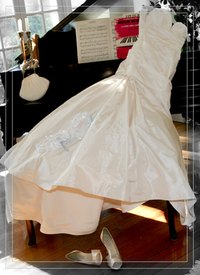 Pageant dresses typically feature fine detail executed in high-quality materials and embellishments. It is not unusual for a custom-made pageant dress to cost thousands of dollars. Pageant shell dresses offer a hybrid approach by providing a well-made, custom-fitted dress that can be hand-embellished by the contestant. The process is more time-consuming than it is difficult to execute.
Things You'll Need
Pageant dress shell
Embellishments (lace fabric and trims, appliqués, sequins, pearls and other beads, crystal gemstones, ribbons)
Scissors
Fine needle
Thread to match dress color
Fine thread to match appliqué motifs and trims (optional)
E6000 glue
Common pin
Design Your Dress
Research the pageant that you plan to enter. Some pageants clearly prefer heavy glitz, while others favor more natural looks. The time of day or pageant venue can also influence its style. Pageant expert Rhonda Schappert suggests finding pictures of the top five finishers in the previous year's competition in order to look for patterns in the gowns they wore.
Choose a shell dress in a color and style that flatters you, remembering that the dress should draw attention to your face, rather than attract attention to itself.
Create a decorating plan and purchase the necessary embellishments to achieve your design. Determine your materials; lace fabric, pre-fabricated appliqués, sequins, ribbons, beads, pearls and crystal gems are popular. Acrylic or glass gemstones are frowned upon in pageant circles.
Apply Appliqués
Select lace or other fabric that will be appliquéd to your shell dress. Alternatively, you can use pre-made appliqué motifs; however, this is likely to be a more expensive option. Choosing lace or motifs that incorporate sequin and bead embellishments is another time-saving strategy.

Cut sections of lace or fabric motifs to form appliqués that you will apply to your shell dress. It is common to achieve near complete coverage of the bodice, with smaller appliquéd areas on other parts of the dress.
Ensure that the edges of your cutouts will not fray. For many laces, this will simply mean carefully cutting through the netting that joins the main elements of the lace. Apply Fray Check or a similar product to the edges of lace motifs that will fray if untreated. For woven fabrics, you will need to use an iron to carefully fold a tiny 1/8-inch hem around the appliqué border.
Attach the appliqué to the dress shell with a fine needle and thread and very tiny hand stitches.

Layer on More Embellishments
Apply lace, bead, sequin or other trims to edges and seams, such as necklines, waist, sleeves and hem. Sew the trim with tiny hand stitches.

Add sequins and beads to the dress shell. While these may be glued, achieve a higher-quality result by using a fine needle, thread and glass beads for this purpose. Keep your threads fairly short and to take a few extra stitches periodically to reduce the risk that too much decoration will be lost if a thread breaks.

Glue crystal gemstones using E6000 glue, which is flexible, washable and will remain clear over time. Apply glue with the head of a pin and use it to pick up the wrong side of each gem. Carefully place the gemstone and push it onto the fabric as the pin is removed.

Sew ribbon decorations. When storing the dress, it is best to stuff tissue into bow loops to preserve their shape. Consider attaching bows with snaps or hook and loop fasteners, so they can be removed for cleaning and other maintenance.