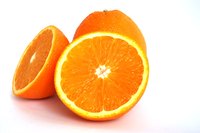 Being young and overweight can be a physical, mental and emotional struggle. Girls who are 13 and overweight are in danger of a lifetime of health problems if they do not make some changes. However, 13-year-olds are still growing, so it is critical that young teens maintain a healthy lifestyle and incorporate the right foods into their diet without resorting to extreme weight-loss methods. Changing eating habits and adopting an exercise routine are two keys to helping you achieve a healthy weight.
Change your diet. The most effective way to lose weight is to replace junk food with more healthy whole grains, fruits and vegetables. Increase your fiber intake, which will help you feel fuller longer; you'll find fiber in many fruits and whole grain foods, for example, cereal and whole wheat bread. Watch your portion sizes to help control calorie intake. According to health.gov, young teenagers should consume no more than 2,200 calories a day to maintain a healthy weight. This should be balanced between starches, fruits, vegetables, dairy products and meat.
Keep track of what you eat with a food diary. Write down the foods you eat and the number of calories for each one; be honest about portion sizes. You might discover that you have been consuming too many calories, often in the form of fats and sugars, which contributed to being overweight. Keeping a food journal will help you identify the sources of excess calories, then eliminate or reduce your intake of those foods.
Stay active. By combining healthy eating with moderate physical activity, a 13-year-old girl should see weight loss results. Physical activity of any type counts; the most important factor is to get moving. Make the activity enjoyable, such as walking your dog, joining a soccer team, jogging by yourself or with a buddy or taking dance lessons. Or recruit friends and family for support and join a gym together. Being active for 30 minutes, three to five days a week, can promote weight loss.
Set goals. For healthy weight loss, expect to lose a pound or two a week. Determine your desired weight and be realistic about how long it will take you to reach that goal. Use a Body Mass Index, or BMI, calculator to determine what a healthy average weight for a 13-year-old girl who is your height. Do not set a goal below the BMI level; this could lead to health problems.