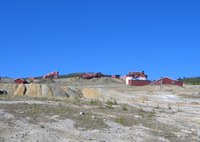 Discover thousands of acres of reclaimed land in the southern and eastern regions of Ohio. Formerly unusable land that has been improved and cleared of hazardous materials or obstacles is commonly referred to as reclaimed land by real estate agents, appraisers and lending institutions. Sometimes reclaimed land is old coal company land that has been converted from strip-mining conditions and can be sold for agricultural and recreational use. Depending upon the acreage of the parcel, portions of the Ohio land may be suitable for the building of a structure. Searching for reclaimed land often involves browsing current real-estate listings and then walking the property to review attributes and boundaries.
Things You'll Need
Internet connection or print real estate advertisements
Financing or cash
Licensed real estate agent (optional)
Maps
Property Tax card
County plat map
Property deed
Physical ability to walk the land or use of a recreational vehicle to ride over the land
How to Buy Reclaimed Land in Ohio
Determine the amount of acreage you would like to purchase and how much you can afford to spend. Speak with your lender before you begin browsing real estate land listings to determine what price range you can afford. Getting a lender-preapproval letter will lend validity to any offer your or your real estate agent presents to the land owner. Do not estimate what "X" amount of acres will cost based upon a price per acre figured from property you already own, have sold or read in a real estate advertisement. Land prices vary as much as house prices. There is no set price per acre for any type of land. Land values depend upon location of the property, geographic characteristics, zoning laws, access to utilities and possible use.
Narrow down your search by geographic area. Do not become overwhelmed by browsing the entire state or more than one region at a time. Once you know how much you can spend, you should be able to get a "ballpark" idea of how many acres that will purchase in a designated area by looking at current reclaimed land prices. Typically, reclaimed land prices are a lot less expensive than pristine land without deed restrictions on utility digging and building. With the exception of the Hocking Hills region of southern Ohio, there are few, if any zoning restrictions on land usage. Rural areas are less likely to restrict legal activities and types of structures that can be constructed. Read the real-estate listing carefully when searching for reclaimed land.
Ask the real-estate agent to give or send you a copy of the property deed. Not only will the deed describe the land characteristics and boundaries, it will outline and encroachments, building restrictions and oil and mineral leases that follow the land. Due to the nature of reclaimed land, even areas that have been improved may not be deemed safe for building a home or business. You should have your agent provide a topographical and plat map for review. The portions of the land that were used for mining will be highlighted. Request a copy of the property card from the local county auditor's office. The document will show you the tax rates and previous purchase price on the acreage.