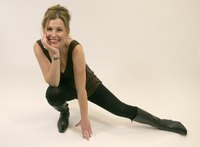 Capri leggings gained popularity in the early 1980s, according to Richard Abanes's book "Religions of the Stars: What Hollywood Believes and How It Affects You," as pop icons such as Madonna wore them in conjunction with distressed lace tops and colorful crinoline shirts. In more contemporary fashion, this cropped spandex-infused pant is adapted for many occasions, from sports and fitness attire to casual-chic weekend wear. In past pages of "Lucky" Magazine, the Capri legging has been sported with a long tunic and wide belt--an outfit that can work with most body types.
Things You'll Need
Black Capri leggings
Tailored tunic
Textured leather belt
Wedge pumps
Colorful beaded necklace
Choose a pair of black Capri leggings that properly fit the waist, hips and legs. Other than the size, pay attention to the thickness of the material, and the material's ability to stretch. A taut, well-fitting Capri pant can provide a more slimming effect on the body, according to "Lucky" Magazine—making it a stylish choice for weekend attire.
Match the leggings with a crisp button-up tunic. Select a black top that has a bit of structure, such as a tailored tunic, with a collar, buttons and even pockets. When pairing a top with leggings, choose a top that falls to at least the hip area, or just below. A black shirt and Capri leggings can be a good foundation for a casual, yet chic outfit.
Cinch the tunic in at the waist with a large bold belt. Accessories can provide the opportunity to introduce color into the outfit. A brightly-colored or textured belt can add flair to a monochromatic shirt and Capri pant ensemble. Choose a wide belt that is at least two inches to bring attention to the waistline. Furthermore, one that is made of embossed or treated leather can add extra drama to the outfit.
Accentuate the Capri leggings with a pair of wedged heels. Pumps can help elongate the leg and wedge heels can be more comfortable, as stated by Samantha Critchell in her article, "The New Shape of Shoes Comfort Enters Fashion's Consciousness." Finding shoes that are a similar color to the belt can help give the ensemble a cohesive look.
Upgrade the Capri legging look with a sparkling necklace. Bold jewelry can help make a casual look more chic, especially a beaded necklace. There are many necklaces in contemporary fashion that can make a statement, from glitzy to bold. Large bold beads, such as turquoise, can lend a bit of vivaciousness to a weekend look.