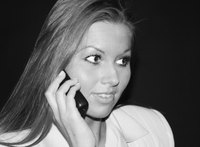 Office voicemail systems are common in workplaces. These systems offer the ability for callers to leave messages for employees who can't come to the phone immediately. This works well when employees are away from their desks, out of town or on another line. Employees can then retrieve the messages from their office phone or any other extension or location. Voicemail systems are designed by various companies; each work differently and offer various functions.
Set up a greeting. The first step in using an office voicemail system is setting up a greeting. Each employee with a direct line must record a greeting that callers will hear when placing a call. Many companies encourage employees to routinely record a greeting that states their name, the date and any information regarding days the employee will not be at work.
Learn how to use extensions. Receptionists should know how to transfer calls to extensions. Many voicemail systems are set up electronically and allow callers to choose the person they wish to reach through a database of names. If a caller already knows the extension of the person, it is dialed during the phone call. If this type of system is not in place, the receptionist transfers phone calls to the appropriate party or extension.
Retrieve phone messages. Learning to use an office voicemail system is typically quite simple. When an employee has a message, a message light will indicate this. The employee then must know the procedure to retrieve the message. Generally, the employee will push the message button and enter a password. The employee then retrieves the messages. Alternatively, there may be no indicator light but there will be an indicating dial tone when the employee picks up the phone. This cues the employee to call the voicemail number to retrieve his messages.
Understand message options. Most voicemail systems allow the listener to save the messages, discard them or listen to them again. To do this, certain numbers on the phone are pressed.
Retrieve messages away from your office phone. Almost all voicemail systems allow employees to access their voicemail messages from other locations. This typically involves calling the line, pressing a specific button, such as the pound key, and then dialing a security code. The messages are then retrieved and the employee can listen to them from any location.
Learn about the other functions offered. Some voicemail systems allow messages to be copied to other employees' extensions. This is a useful feature when a message applies to multiple people but is left in only one employee's voicemail box. Another feature through some systems is caller ID. This allows employees to know who called their extension even if a message was not left.