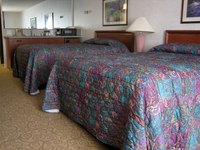 No hotel is immune to a bed bug prevention because of the fact that there is no way to inspect the luggage of each and every guest checking in. Once a guest brings bed bugs, they spread quickly throughout the hotel, using outlets and holes for wiring through the walls to get to adjoining rooms. When traveling to a hotel, the best way to prevent bed bugs from spreading into your home after your stay is to inspect the room you were assigned for the possibility of bed bugs.
Checking for Bed Bugs
Look at the sheets for small blood stains from their feces. Carefully examine the entire sheet surface, along with the pillows.

Pull the sheets off the bed and examine the mattress for tiny blood stains. Use a flashlight, even a small, LED keychain version, and check the piping of both the mattress and the box springs for bed bugs or their feces.
Pull the headboard back from the wall and carefully inspect the wall for signs of bed bugs, including the bugs themselves, or small, white eggs in a batch of 10 to 50. While inspecting the wall, look at the entire wall, and particularly along the baseboard.
Inspect any furniture near the bed, including the nightstand or any curtains. Pull the drawer out of the nightstand and inspect the drawer and nightstand inside and out. Inspect the length of the curtains, as well.
Finding Bed Bugs
Consult the front desk personnel in a discreet manner to inform them you found evidence of bed bugs, whether old or new.
Ask politely for a room that is not adjoining to the room you just searched.
Search the new room as you did the first one. If there are signs of bed bugs in the second room, politely inform the hotel staff that you have found bed bug evidence in two rooms, that you would like a refund and you will not be staying in the hotel.
Avoiding Bringing Bed Bugs Home
Pull out the clothes in your suitcase and inspect them for bed bugs.
Check your luggage carefully for bed bugs before leaving the hotel, even inside the suitcase's zippers, piping and other places bed bugs could hide.
Unpack your luggage, once home, on a hard, light-colored surface that allows you to see possible bed bugs. Don't do this on carpet, because possible bed bugs may scurry into the fibers and hide from you.
Wash your clothes and anything you traveled with in hot water, at least 120-degrees Fahrenheit, for 40 minutes. Freeze your suitcase, if possible, for 24 hours.