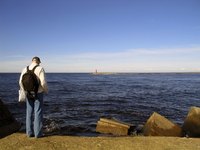 While taking a trip by yourself can sound intimidating, it often provides the solo traveler with a valuable opportunity to experience complete freedom and control while getting to know themselves better. A successful solo vacation begins with the proper planning and research, which leads to a safe, eventful and unforgettable trip. While similar to planning a trip for two or more, planning a solo journey requires specific attention to detail since you'll be self-reliant and nobody else to depend on.
Things You'll Need
Internet access
Word processor or pen and notepad
Appropriate documentation (identification, passport, travel documentation and reservations)
Planning Your Trip
Determine where you want to go and how long you want to be there. It's okay to be general this early in the planning process, as long as you have a direction to aim your research and a realistic time-frame. This will also help you determine how much you'll need to save and spend to make the vacation happen. If you haven't yet, begin saving money for the trip now.
Begin researching your destination. You'll likely find plenty of information on the Internet through search engines, travel sites and websites dedicated to a specific location you're interested in visiting. Learn local laws and customs to keep yourself out of trouble. Write down a rough schedule, important dates, information and locations in a word processor or notebook.
Plan your locations by date, determining where you'll be on a day-to-day basis. Look into specific attractions, activities, sites and events where you'll be staying and begin planning for those that sound appealing to you by marking them on your schedule.
Make all of your travel reservations, booking any applicable flights, reservations, accommodations and tours. As you're doing this, make another schedule for your set-in-stone information. This second schedule should detail your budget, reservations and plans on a day-by-day basis, though be sure to leave room open for spontaneity, relaxation and any unforeseen circumstances.
Pack what you plan to take, account for TSA, airport and customs regulations to ensure smooth transport. Ensure that you have all applicable paperwork, tickets and reservations organized and make copies of everything, storing them separately from the originals.
Taking the Trip
Arrive at your destination and take either an airport taxi or shuttle to your first hotel or hostel. If none are available, only take a taxi after seeing the driver's identification.
Unpack what you'll need for the duration of your stay in that particular location. Before departing, ask the hotel or hostel staff for any safety recommendations, as well as travel advice for the area. Begin your scheduled activities and stick as close to your schedule as possible, though you should be willing to compromise and change your plans if you find something better to do.
Remain aware of your surroundings and possessions at all times. If you're in an unsafe area, don't over-dress or wear expensive, flashy jewelry. Use common sense and follow your instincts to remain safe.