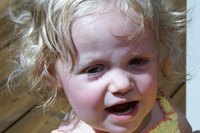 Traveling by plane is difficult enough, but when you factor in a toddler with an earache, the whole experience can become unbearable. The changing altitude and cabin pressure causes ears to pop and can sometimes cause a sharp pain in your toddler's ear canal. Preventing your toddler's ears from popping throughout the flight, especially during takeoff and landing, will make the entire plane ride a more enjoyable experience for both of you.
Things You'll Need
Juice
Lollipop
Fruit snacks
Give your toddler a cup of juice or a lollipop during takeoff and landing. Swallowing helps to prevent ear pressure from building up.
Give your child small snacks such as fruit snacks or dry cereal throughout the flight. Chewing and swallowing can ward off painful ear popping that occurs during a flight--especially during unexpected turbulence, which can cause a drop in cabin pressure and subsequent ear popping.
Give your toddler an antihistamine prior to the flight if he is especially prone to ear sensitivity. Antihistamines act as a sedative, which may help your child sleep through the plane. Antihistamines are also known for reducing ear pain caused by changes in cabin pressure.