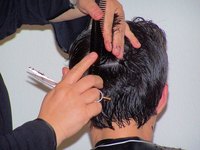 From long shag cuts to ultra-short crops, men have lots of options when it comes to choosing a new hairstyle. It is important to do your research -- look through magazines to see what type of cuts you like. Although you may have a particular style in mind, you must consider certain factors such as your hair texture, length and face shape. Your cut should make you look and feel great, rather than blindly following a fashion that may not suit you. With a little thought and know-how, it is simple to pick a style that suits your face and reflects your personality.
Things You'll Need
Look in the mirror and study your face shape. Is your face round or long? The right cut will disguise features you want to minimize and accentuate your best features. Think about which features you like and do not like and mention these to your stylist who will consider this when cutting your hair.
Understand your hair type and work with it. If your hair is curly or very thick, then have choppy layers cut in to give it style, definition and make it easier to manage. If your hair is thinning, opt for a shorter style that is close to the scalp.
Decide how much time you can commit to your hairstyle. If you spend a lot of time outdoors, choose a simple wash-and-wear crew cut. If you are realistically prepared to spend time styling your hair in the morning, then you may prefer something longer that you can style in different ways with hair products.
Cut out images of hairstyles that you like from magazines. It will help your stylist envisage how you want your hair cut. If your hair texture or face shape is not right for the exact cut, your stylist will be able to adapt it in a way to suit you.
Have a conversation with your stylist. Many salons offer a free consultation service where they will discuss your lifestyle, hair type and requirements. Only when you feel happy with the recommendations go ahead and commit to the cut.