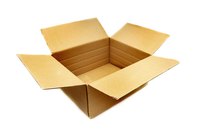 Shipping to Canada can be expensive, so it pays to calculate shipping costs beforehand to determine the cheapest route. Almost all shipping companies offer an online estimator on their website, so all you need to do is enter the appropriate information. You will be able to estimate shipping time in addition to costs and select from a wide range of options when shipping.
Things You'll Need
Weigh the package on a postage scale to find the actual shipping weight, in pounds and ounces.
Measure the length, width and height of the package.
Visit the site of the shipping company you wish to use, or try them all to get the cheapest rate. Popular choices are the United States Postal Service, UPS and FedEx. (See References)
Enter the destination and origination address or zip codes on the shipping sites. Enter the dimensions and weight measurements you made earlier. If there are any other considerations, such as shipping via an account, online purchase, confirmations, scheduled pickups and other options, you should select those as well. Press "Next," "Continue" or "Get detailed quote" to see see how much the respective shipping company would charge for shipping. The results will likely show the costs of all possible modes of shipping, such as overnight or two-day delivery. Use these figures as a basis to determine the best courier and mode to use.