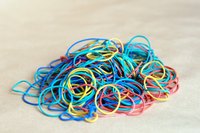 Certain fads and fashions come back into style after several years, including the brightly colored, jelly rubber bracelets. A flash from the past, these rubber bracelets come in several different colors. They can be worn as several individual bracelets, or twisted together to form new bracelets. Experiment with color combinations and use these combinations with different outfits you might wear. Add these accessories to other brightly colored accessories like earrings, necklaces and rings.
Hold the two bracelets together, one on top of the other. As an example, imagine a green bracelet and a blue bracelet.
Hold onto one end of the bracelets. At the other end, pull the blue bracelet under the green bracelet.
Take the blue bracelet and pull it over the green bracelet. Fold the blue bracelet to form a "U" shape. Hold this blue folded end.
Take the green bracelet. Hold onto the end that's furthest from the blue bracelet. Pull the other end of the green bracelet through the center of the folded blue bracelet, forming another "U" shape. Now you have two folded bracelets.
Place your hand through the bracelet that's half blue and half green. Slide it onto your forearm.