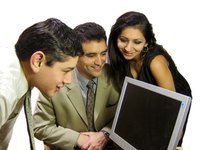 Work teams are groups of employees chosen to collaborate on a project. Well-functioning teams improve productivity and increase company performance. Work teams are created by management and require monitoring and encouragement. These individuals work together to achieve one objective, each person utilizing his own skills. Together, a work team can be extremely successful if organized and encouraged properly.
Talk to team members regarding the team leader. All work teams must have a leader who is designated to take control of the entire project. Management is responsible for organizing and maintaining the team. The team leader ensures that all team members have assignments and understand them. It is vital that the team leader is well respected and liked by the team members, because then the team tends to function better. If a team leader is not working well, management often removes this person and replaces him with a person who may already be part of the team.
Provide the team with clear expectations. A work team which is unsure of the objectives cannot perform at its best. Communication is vital. The management is responsible for talking to team members about expectations and company objectives. When a team is created, the objectives are clearly written and explained to the entire team. It is important though, to constantly evaluate the work the team performs and monitor the steps needed to achieve the objectives.
Determine a reward system. Rewards are great motivators. They can be based on performance evaluations and team accomplishments. Encourage teams to work hard together to achieve a goal. Reward systems are often monetary compensations in the form of bonuses. When a team or a particular member reaches an objective, the employee or team receives a bonus on the next paycheck.
Offer training programs and workshops. This lets employees know that management cares about their performance and wants them to have the necessary skills needed to complete the job. Training is important to contantly promote better work ethics and habits. Even if a program is already in place, training sessions help increase productivity.
Listen to employees. When employees believe the management cares about their well-being, employees are encouraged to work hard. It is very encouraging to employees when management listens to their suggestions, complaints and comments.
Take action. Employers should take the information from employees and determine if changes within the organization are needed. New programs can be implemented and old work processes can be changed. When employees notice that the management used their advice, it boosts morale.