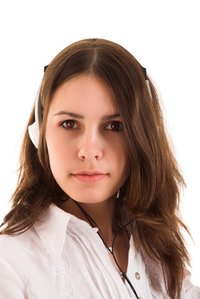 As we age, our hair naturally changes color. Those with black or brown hair generally see a fade to gray, while blondes turn to white. Some people, however, maintain their natural hair color well into their elderly years, while others go stark white as a teen. If you want to remove your white hair, there are several options for altering your white hair to mirror your natural color.
Use a hair touch-up kit that matches your natural hair color (or your desired hair color) by applying it per the manufacturer's recommendations. Alternatively, dye all of your hair the same color if you're worried about color blending or if you have numerous white streaks or a head of white hair.
Visit a salon and advise the stylist that you want to get rid of your white hair. She will likely recommend either a touch-up treatment or a whole-head treatment. In either case, keep in mind that you will need to revisit within four to six weeks for another treatment.
Apply natural remedies to both prevent and treat white hair. Cut Indian gooseberry into pieces and dry it in a shady place. Boil the pieces in coconut oil until they become a dusty consistency. Apply the resulting matter to your scalp before you go to sleep.