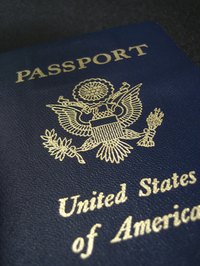 If you are unhappy with your U.S. passport photo, or your appearance has changed dramatically and you want to avoid that leading to questions from customs officials, obtaining a new passport is not a difficult process. Have a new photo taken and fill out the proper forms to renew the passport. Give yourself at least six weeks before your trip to receive the new passport in the mail.
Visit a local store that takes passport photos and have your new photo taken. The color photos should measure 2 inches by 2 inches and be printed on thin photo paper or stock.
Alternatively, upload your digital photo to a website that provides passport photo files for free, such as ePassportPhoto.com. Review and comply with all photo-quality and composition requirements of the U.S. State Department. For example, light sources should be positioned on either side of you and behind you to avoid shadows on your face or in the background. Directly face the camera. Use a white or light-colored background. Digital photos should have a resolution of at least 3 mega-pixels. After transferring the image to your computer, upload it to the passport photo website of your choice and follow the steps for receiving the file. Print two 2-inch-by-2 inch color photos on thin photo paper or stock.
Go to your local post office and fill out the Form DS-82, Application for a U.S. Passport by Mail. Check off that you lost your passport on the form. Staple two new duplicate photos to the appropriate place on the form. Enclose a check or money order made out to the U.S. Department of State for the current renewal fees.
Send your renewal form, photo and payment via a traceable method, such as USPS Priority Mail with Delivery Confirmation, Priority Mail with Signature Confirmation or Express Mail. The State Department recommends using a secure package, such as a Tyvek envelope.