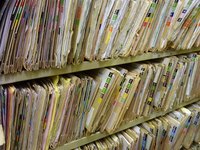 In these days of computerization it is easy to organize office records, appointment books, finances, and everything else all on one computer. This works great as long as you have back-up copies, and as long as a power outage does not cut you off from everything you need to keep your office up and running. Having paper files does take more room than computer files, but it makes a good back-up system, and if your office deals with a lot of paper bills, invoices, or faxed orders, a paper file system keeps things neat and easy to use.
Things You'll Need
Manila folders
Labels
Hole punch and fasteners
Large envelope
Index page
Filing cabinet
Sign out sheet
Creating a Paper Filing System
Get organized. Before you start trying to put together a paper filing system you need to have all your supplies ready to go so you don't have to stop in the middle of the process. Make sure you have a filing cabinet large enough to handle all your files without having them packed in so tightly that you can't get to them. Leave yourself room to grow.
Decide how you want to categorize your files. As an example, a medical office will want files for each patient, whereas the office for a retail store may want files for each supplier. In addition to files for broad categories, you will need files for such things as incoming mail, bills that must be paid within the following 30 days, and invoices that clients must pay you within the next 30 days.
Develop a filing system. You can arrange files alphabetically, numerically by date, or in any number of other ways. The two things to keep in mind are that whatever system you choose, it must be easy to find the files and you must be consistent. If you file some clients alphabetically by first name, and others by last name, it will take much longer to find the file later on. Having a consistent system also means anyone in the office can locate a file. Every file must have a clear and easy to read label.
Create the files. Each paper needs to be fastened into the file whether with a two hole punch, a three hole punch, or placed in a large envelope that holds non-standard size items. Create subdivisions within the file if there are clear categories that paper items fall into. A law office file, for example, might have sections for witness information, opposing counsels' filings, and court filings that office made. At the front of the file you should have an index that identifies each item in the file, preferably in the order it sits in the file.
Store the files. Place the files in the filing cabinet. At the front of the cabinet keep a clipboard with a sign-in/sign-out sheet. Any time any person in the office removes a file from the cabinet, he or she needs to sign the file out and indicate where it will be. When the file goes back into the cabinet, the person needs to sign it back in. Having a sign-in and -out register will save everyone in the office time by preventing "lost" files.