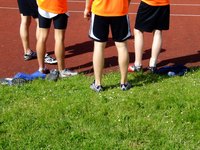 Counterfeit Nikes are made from inferior material and fall apart within a few days, so it's important for you to spot a fake Nike Air Max 360 before wasting your money. The Nike Air Max 360 was released in 2006 and is known as one of the most counterfeited sneakers. If you know enough about the real 360s, you will be able to tell the difference between the fake ones and the real ones. It was one of the first shoes to have 360 degrees of air in it without polyeurothane or foam in the midsole, according to the New York blog DeFY.
Examine the real version of the shoe on the Internet or in the shoe store and figure out which one you want before you decide to find a good deal on the shoe. Look carefully at every part of the shoe, including the sole, the color mix and the bottom.
Look on the sole of each shoe and see if there are colored blocks in the bottom of each shoe. The fake shoes usually do not have any color in the bottom of the 360s. The real 360s have colored squares on the bottom mixed in with the black sole.
Look at the shape of the toe box and midsole of each shoe. According to Defy, the toe should be sleek and the midsole should not be too thick. The fake shoes are usually thicker on the midsole and the toes are wide.
Feel the sole of each shoe. It should feel like rubber and should be made from BRS 1000 rubber. The soles of fake shoes feel more like plastic or feel slippery, which is dangerous if you are using them for sports.
Send the shoes back if they are delivered in shrink wrap. If you are buying online, check the feedback about the particular seller to see if customers are having positive feedback about what they are receiving from the seller. The original Nike shoe boxes are sturdy and should not fall apart easily. Look for the SKU number on the box to see if it matches the inside label of each shoe.
Look at the colors of each shoe. For example, the midsole of an authentic Nike Air Max 360 is solid blue on blue, gray and white version of the shoe. A midsole of a fake shoe of the same version is only partly blue. Look at the upper part of the real shoe and how it subtly changes from white to gray. On fakes, the gray and white do not mix.