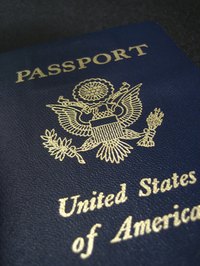 Many changes occur within 10 years that can make your appearance vary from that on your passport. Your passport photo can differ from your appearance because of weight gain or loss, hair color changes and style, and the effects of aging. Officials checking passports are aware that changes do occur and take into account the difference. The U.S. Department of State does not give an option to only update your passport photo, but you can renew your passport early.
Renew your passport before it is required if your photo is causing identification issues. Keep in mind, however, if you renew early, you forfeit any remaining time left on your previous passport. For example, if you still have three years left before your current passport expires, you will lose those three years and your new passport will expire 10 years from the date of issue.
Fill out an application for a passport renewal, which you can download from the Department of State's website or pick up from the Clerk of Courts Office. If your current passport is undamaged, you can send in your application by the mail using Form DS-82. Make sure to complete all requested information on the renewal form, including any updates in contact information.
Have new passport photos taken. Make sure to include two new passport photos with your renewal. Not including photos with your initial renewal application may delay your passport. Make sure you like the photos you submit with your passport renewal application so you don't have to go through the process again.
Return the application to your Clerk of Court Office, or through the mail, with your payment and your old, undamaged passport. As of November 2010, the cost for a passport renewal was $110. It may take four to six weeks to receive your passport, unless you pay more for expedited service. Expedited passport service costs $60 additional, plus $14.95 for overnight delivery service and can take two to four weeks to receive.