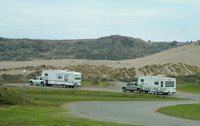 RVs give only a small amount of living space to the traveler. You must choose carefully what you will pack into one and where everything will go. An RV will generally have closet, cupboard and cabinet space, and allow for added ways for you to save space while on the road. Take what is necessary with you, but don't overpack the RV. You do not want it to seem overly cramped.
Things You'll Need
Air conditioner
Television
Coffee maker
Awning
Table
Chairs
Hooks
Organizers
Clothing
Broom
Shampoo
Soap
Towel bar
Spice rack
Dinnerware
Cleaning supplies
Bring small versions of everyday items along if possible. Purchase a small air conditioner if you will be using the RV during hot weather. Use a smaller television and coffee maker than you would at home. Be sure that all appliances fit into the space without taking up too much room.
Install an awning over the door to extend the living area to the outside when the vehicle is parked. Bring along a table and chairs that will store flat to set up under the awning when you are camped somewhere, to allow you time to relax outside of the RV.
Hang hooks and other small organizers in the RV. Place jackets, robes and brooms on hooks. Attach a shower caddy to the stall for holding shampoo and soap. Place a towel bar under the sink for hanging towels and such to dry. A spice rack can be attached to the inside or outside of a cupboard unit to hold small items.
Place everything in its own space and make sure it always gets put back so that things do not clutter up the inside of the RV and make it seem like there is less space than there actually is. Take a few minutes to clean up after each meal and activity. Make beds first thing in the morning, and pick up before going to bed.
Limit the number of items that you bring on the road with you. Bring just enough dinnerware for your family. Leave most of your wardrobe at home, for each season you will be on the road. Take along minimal materials for hobbies and other types of activities.
Bring everything you need with you. Be sure to have whatever cleaning and personal hygiene supplies that you will need with you. Have a few games and books or magazines available for relaxing. Bring along a small digital camera and a laptop to help you keep in touch with everyone back home.