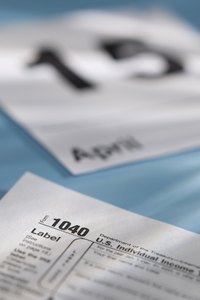 When you file your taxes at the end of the year using 1040 or one of the other 1040 forms, you are now given the option to file them electronically. Yet, you have to provide proof of your income. Traditionally, you would not need to mail a copy of your 1099 to the Internal Revenue Service (IRS) because they already have a copy from the payer. However, when you file your taxes electronically, you have to file form 1099 electronically as well.
Navigate to the e-file service you use to file your taxes electronically (See Resources).
Click on the option to add forms. Select the form 1099. A fillable form of the 1099 pops up on your screen.
Input the corresponding information from your hard copy 1099 into the provided text boxes on the screen. Complete the form 1099 electronically.