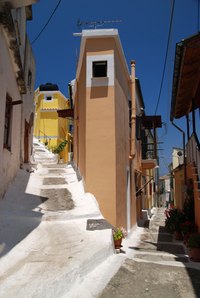 Greek is one of the oldest languages in the world, with a full Greek alphabet dating back as far as 750 B.C. Although many Greeks speak English--especially those who live in cities and tourist destinations--it helps to know a few Greek phrases. It shows a lot of respect to the locals if you make the effort to learn basic greetings, particularly "hello." Greek characters are different from those used in Western Europe and America, so it's hard to work out how to pronounce Greek words, unless they're written as English equivalents.
Check the time. Greeks say "kalemera" as a morning greeting, "kalo apoyevma" to say "good afternoon," and "kalespera" to say "good evening."
Try saying "yah su" to greet friends and family. This is a more informal, blunt version of "hello." For a shortened version used among young people, try saying "ya." If you're greeting a group of people, say "yah sas."
Use "ya sas" to say hello to older people or when you want to show deference and politeness.
Opt for different forms of hello when on the telephone. When speaking to friends, use the informal "ela," pronounced "eh-lah," or "embros," pronounced "ehm-bross." Answer the phone at work or in a more formal setting with the greeting "leyete."
Start a conversation by saying hello and then asking how someone's doing. Ask friends and young people by saying "pos ise?" or "te kanis?" (both mean "how are you?"). In formal situations, try "pos iste?" and use "te kenete" to address a group.