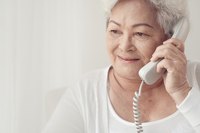 If your TennCare card is lost, stolen or accidentally destroyed, you need to get a replacement. Typically, you must contact your managed care organization to organize this. If you need a new prescription card, there is a slightly different process to follow.
Things You'll Need
Documents verifying enrollment in TennCare
Determine which of the four MCOs provides your health care. TennCare contracts with Amerigroup, Blue Care, TennCare Select and UnitedHealthcare Community Plan to provide enrollees with health care. According to the TennCare program handbook, you have to approach your MCO if you want a replacement TennCare card.
Contact your MCO and explain that you lost your TennCare card and would like a replacement. Keep handy any documents that can verify your identification. Call Amerigroup on 800-600-4441; Blue Care on 800-468-9698; TennCare Select on 800-263-5479; and UnitedHealthcare Community Plan on 800-690-1606.
Call the TennCare pharmacy help desk if you need a replacement prescription card. The number to call is 888-816-1680 no matter who your MCO is.
Contact TennCare Solutions if you are still unable to get a replacement TennCare card by calling your MCO. Have your TennCare records and ID handy. TennCare Solutions can be reached by calling 800-878-3192.