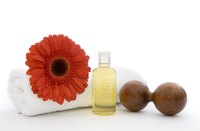 Everybody loves getting things for free and free samples make consumers happy. There are many free samples to be found, yet tracking them down can be tricky. From beauty products to household cleaners, consumers are more likely to purchase a product after testing it. Here are a few easy ways to get your hands on free samples.
Things You'll Need
Visit well-known websites, such as all-free-samples.com or shop4freebies.com, that create listings of available samples from companies. These sites list free sample offers from many companies that are currently giving away trials of products, such as household cleaners, pet products and beauty supplies. Some of these products are from companies that have household names, yet some will be from companies you have never heard of. Just click the link for the product you would like to try, fill out the form, and the samples should be sent to your mailing address.
Contact the customer service center for the company whose product you wish to try. The customer service phone number usually can be found on the company or product's website, or the product itself, if you find it in stores. Call and ask a representative for samples of the product. Many companies will mail you free samples to promote the product, or they will give you the information you need to get some.
Find a local representative or "rep" for the company whose product you wish to try. Representatives usually have the easiest access to free samples, because it is their job to promote products. Their contact information usually can be found on the company's website or by contacting customer service.
Go to local stores where the product might be found. Many stores that carry the product receive free samples and are more than happy to share them with customers. If they don't have samples, they usually can connect you with the company or a nearby representative.