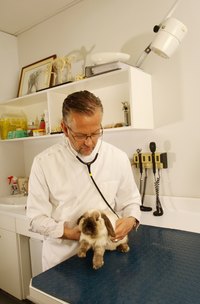 Rabbits have a reputation for reproducing quickly and having large litters. If you don't want to end up with a herd of rabbits, sometimes called a fluffle, you need to know the gender of your bunnies, especially if you're keeping two or more together at the same time. Fortunately, this can be done rather easily and at home.
Examining the Animal
Cradle the rabbit in your lap and wait for your bunny to calm down. Lay the rabbit on his back, with the hind legs facing away from you. You should notice a fuzzy protuberance between the legs. This is called the prepuce. Press down firmly but gently on the anterior part, the side nearer to you. The rabbit's genitals should expose themselves.
Characteristics of Does
Female rabbits will have a set of vulva with an opening slit that runs from near the top of the conical structure backward towards the tail. Two clear blood-vessel beds should help you distinguish the vulva of the female from the foreskin of the male. Female rabbits are called does, like deer.
Characteristics of Bucks
Male rabbits will have a conical foreskin containing the penis, which may or may not expose itself when you apply pressure around the prepuce. Sexually mature, unneutered male rabbits also may have obvious testicles. Male rabbits are referred to as bucks, also like deer.
Sexual Maturity of Rabbits
Most species of rabbits reach sexual maturity after they are 3 months old. Does and bucks should be separated after this time to avoid accidental litters. Some species may reach maturity sooner or later than this, so it is important to know that age in advance. Talk to your veterinarian if you aren't sure or need a second opinion on the sex of your bunnies.