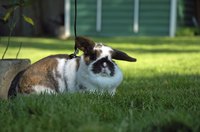 The American 4-H community is a club for young people learning citizenship, leadership and life skills. Learning how to participate in a 4-H rabbit show gives kids a chance to display showmanship, responsibility and a myriad of potential character-building skills.
Choosing Your Rabbit
The 4-H rabbit shows for young people project is different from other animal shows because the judging emphasis is on the child presenting the rabbit, rather than the animal. When showing, participants describe their rabbits with an emphasis on disposition, health characteristics and appearance. When choosing a show rabbit, various breeds are age appropriate. Younger 4-Hers are encouraged to show calm, smaller breeds such as Netherland dwarf, American fuzzy, Polish, Holland lop and mini rex. Older participants select breeds like Californian champagne, D'Argent cinnamon, crème D'Argent, satin, French lop and New Zealand. Older and experienced show participants often opt for high-energy breeds including Belgian hare, Britannia petite, checkered giant, English spot and tan.
Raising Rabbits to Show
While it's the show person's presentation being judged at 4-H rabbit shows, most participants present a special animal. Pet show rabbits can be kept inside or outdoors, as long as secure and sheltered housing is provided. Rabbits suffer in hot temperatures, requiring climates ranging from 60 to 75 degrees. Pet rabbits need at least 30 minutes of outside exercise daily. Rabbits need regular sunshine and fresh air for optimum health. For exercise, and familial interaction, Dr. Daniela Sharma, researcher from Rutgers University, recommends using baby gates to section off rooms of your home where it is safe for your rabbit to roam. Show rabbits should be handled often and exposed to groups of people. Rehearse often with your rabbit, acclimating him to the show process and familiarizing him with what to expect.
Accessories and Necessities
Pet rabbits need housing at least three or four times their stretched body length, with large doors for easy access. For food and water, use heavy clay bowls or bottles and feeders attached to the side of the cage. Avoid bacteria enticing plastics. Your rabbit's housing should have two litter boxes filled with straw, mountain grass, paper fiber or wheat. Add tubes, boxes, baskets and short climbing obstacles for entertainment. Rabbits need a comfortable place for sleeping and ideas include grass mats, sheepskin rugs or material shaped into a cave. Tunnels and safe places to hide are essential for pet rabbits. Rabbits need chew toys for play and continuously available straw, hay or specified wood for chewing.
Presentation Requirements
For the 4-H rabbit show fair presentation, entrants are encouraged to dress neat and required to wear their 4-H shirt for the demonstration. To start, the pet is carried to the table with one arm with his head tucked into your elbow nook. Pose your rabbit facing the judges. While rotating their pet, contestants describe each part of his anatomy in relation to his breed. Turning the rabbit on his back, the presenter discusses their pet's eyes, nose, teeth, abdomen and fur type. Presenters demonstrate sexing their rabbit and explain for the judges. Finalizing the presentation, is a question and answer session with the judges. Winners are declared the same day and participants are awarded ribbons and point scores.