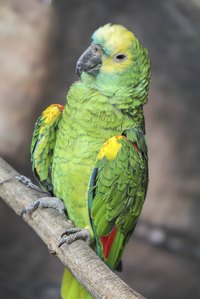 Part of your bird's regular grooming routine should include trimming his nails. Like ours, a birds nails grow continuously and require a trim every couple of weeks. To trim your bird's nails in a healthy and efficient manner, learning the proper technique is essential.
Things You'll Need
Size appropriate avian nail clippers
Styptic powder
Prior to trimming your bird's toenails, you must restrain him. Gently lift your bird by wrapping your hand around his entire body. Your palm should be facing his back.
Turn your bird over until his legs are extended and his feet are facing up in the air. Talk to your pet bird in a comforting voice, using his name frequently.
Use your fingers to steady your bird's legs and feet. With an avian nail trimming clipper trim 1/16-inch from the nail tip on small birds, and 1/8-inch on larger pet birds.
With a small Dremel tool, file the tips of your bird's nails to smooth them and round out rough edges.
If bleeding is present, dab the cut nail tips with a pinch of styptic powder. Hold your bird until the bleeding stops.