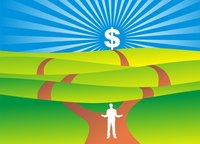 The ISA, or Individual Savings Account, is a British savings product that allows British citizens resident in the UK to save up to £10,200 per year, as of October 2009, and pay no tax on the proceeds. You can save up to £5,100 as cash in a cash ISA, and another £5,100 can be put into the stock exchange or bonds via an investment ISA. Once the year is up you can remove the money from an ISA but cannot put any more in. As well as being tax free, cash ISAs normally pay a higher rate of interest than standard savings accounts.
Review the performance of your cash ISAs every year to make sure that your current provider is paying a competitive rate of interest. Use a price comparison website such as Money Supermarket to search for the best available interest rates.
Check the conditions attached to each offer carefully, as some do not allow the balance of your ISA to be transferred again for a set period of time and some do not allow withdrawals. Some providers charge an exit fee if you transfer your ISA elsewhere, and others ask for an initial charge and an annual charge that can affect your returns.
Contact your chosen ISA provider and open an ISA account. Once you have the details of your new account, contact the original provider and ask them for an ISA transfer form. Make sure the original provider has the details of your new account and knows that you are transferring rather than closing the account. Some providers will handle the whole transfer process for you if you open a new account with them. The transfer can take as little as a week or as long as a month, depending on the providers.
Consider offers from providers to transfer money from a cash ISA to an investment ISA with care. This is irreversible and the value of investment ISAs rises and falls due to fluctuations in the value of the shares or bonds. The value of a cash ISA will never fall. If you do not want to risk losing money, invest only in an investment ISA if you have already used up your total cash ISA allowance of £5,100. You can only transfer an investment ISA between providers once every year.
Change a cash ISA into an investment ISA if you are comfortable with the added risk and have extra cash to invest in a given tax year. You can change a cash ISA containing £5,100 into an investment ISA and then open a new cash ISA and put another £5,100 into it without any penalty.