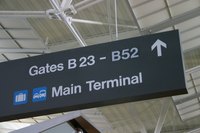 Catching a connecting flight from a different airport can be a pain, but luckily London has many transport options. The cheapest by far is taking public transport. Though there is no direct route this way, the underground runs from Heathrow into London, from where you can catch a coach or train to Gatwick. Allow at least 3 hours travel time. Direct routes are the Gatwick Express from Victoria, or the National Express coach. Taxis are the easiest method as there is no walking with luggage involved, however expect to pay at least £50 – 60.
National Express coach
Walk to the central bus station at Heathrow, which is a 10 minute walk from Terminals 1 and 3. Most buses also visit Terminals 4 and 5, but not all of them, there is a free train connecting from these terminals to 1 and 3.
Get on the bus, and pay the fare.
Allow at least one and a quarter hours for the journey.
Public transport
Take the underground from Heathrow, heading towards Cockfosters.
Alight at Hammersmith, or at any station where you can get onto the District line.
Walk to Victoria coach station, and take the National Express London Victoria to Gatwick airport.
Stopping over in London
Take the Picadilly line into London and spend some time sightseeing. This is a good option if you have a long time to wait between flights.
Head to Victoria on the underground, and take the coach to Gatwick.
Alternatively take the Gatwick Express train from Victoria, the slower Southern train, or the First Capital train from King's Cross station to Gatwick.
A further alternative is to take the Easybus to Gatwick from West Brompton tube station, which his on the District line. Advance tickets are cheaper than buying from the drive on the day.