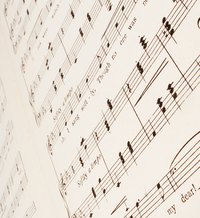 Setting up a web site to sell sheet music is relatively simple and cost-effective with the one-two punch of Wordpress.com and Paypal. You don't need web programming skills or pricey e-commerce software to create an online storefront for your sheet music. You don't even need to invest in a web host. A Paypal shopping cart button is easy to configure and install, and gives you the power to turn virtually any blog or web site into an online shop.
Things You'll Need
Web Site Setup
Go to Wordpress.com. If you already have an account there, log in. If you don't have an account, click the "Sign Up Now" button. Follow the prompts in the sign-up process.
Mouse over "My Blog" in the menu that now appears at the top of the screen and click "Dashboard." Configure your Settings and Appearance options according to your preferences. Under "Pages," edit your "About" page to provide your visitors with information about what you're selling.
Create a blog post for each item you're selling. Enter the title of the sheet music as your post title, e.g., "Moonlight Sonata Sheet Music for Clarinet." On each page, include the following: a photo representing the sheet music; a description of what your customer is purchasing; any special instructions your customers should know before ordering; a Paypal shopping cart button (see section 2 below). Assign a category to each post to help shoppers navigate your inventory.
Click "Publish" when the post is complete. Repeat steps 3 and 4 until all of your sheet music inventory is included on the site.
Click "Appearance" in the left-hand sidebar of your Wordpress dashboard, then click "Widgets." If the "Category" widget doesn't already appear in the blog sidebar, locate it in the list of widgets and drag it to the sidebar.
Paypal Shopping Cart Set-up
Go to Paypal.com and login to your account. If you don't already have an account, click the "Sign Up" button. Follow the prompts in the sign-up process.
Click "Merchant Services" in the top navigation menu. Under "Tools for existing PayPal merchants," click "Add to Cart Button."
Under "Step 1: Choose a button type and enter your payment details," enter the "Item Name." The item name should be the same as your post title. If your customers only have one purchase option, enter your price and go to the next step. If your customers have more than one option, e.g., a choice between receiving a .PDF copy of the sheet music via e-mail for $10, or receiving the original through snail mail for $20, check "Add drop-down menu with price/option" under "Customize Button" and enter each option along with its price point. When you're finished, click "Done" and go to the next step.
Scroll down and click on "Step 3: Customize advanced features (optional)". If you are offering the option to e-mail your customers a .PDF, then select "Yes" under "Can your customer add special instructions in a message to you?" In the text field, write "Enter your e-mail address for .PDF orders." Select "Yes" under "Do you need your customer's shipping address?" Then click "Create Button" to generate your button's code.
Select and copy the newly generated code. In the post editor in your Wordpress dashboard, make sure the "HTML" tab is selected, and paste the code for the Paypal button in a new paragraph at the bottom of the post.