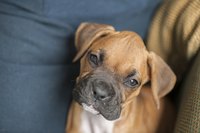 For many years, boxers were shown only with cropped ears. Today, both cropped and natural ears are allowed in the show ring, provided natural ears meet the standard outlined by the American Kennel Club. Essentially, the AKC requires a boxer's natural ears to sit at the highest points of the skull, lying flat and close to the cheeks and of medium size. When alert, the ears should fall forward with a definite crease. Taping the ears helps train them to lie flat and to crease correctly when alert.
Things You'll Need
Cut two lengths of tape approximately 6 inches long. Most boxer breeders recommend using electrical tape, but masking tape or first aid tape will also work. These types of tape aren't extremely sticky, so they will come away from the ear easily when you want to remove them without causing pain.
Grasp one ear flap gently and fold it in half vertically. Bring the side edges of the ear flap outward from your dog's head, with the center of the ear flap forming the back of the crease. Once folded, the outer edges of the ear should meet evenly and face away from your dog's head, either to the front or to the sides. The back, or closed, edge of the fold should lay against your dog's head.
Place a tape strip behind the ear, then fold around the ear until the ends of the tape meet at the front of the ear crease. Once the ears are taped, the opening of the ear fold, where the edges meet, and the tape ends should both face the same direction. Cut the tape, leaving approximately a 1-inch tab.
Release the ear and make sure it hangs properly. The ears should fall the same direction on both sides of your dog's head, and the crease in the ear flap must remain even once you release it. If the crease isn't correct or the ear isn't positioned correctly, remove the tape and repeat.