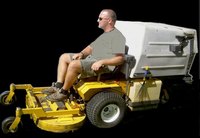 Zero-turn lawnmowers were introduced as professional model mowers designed for commercial lawn cutting. As zero-turn mowers' popularity grew, homeowners began to recognize their efficiency and time-saving features. Steering a zero-turn mower is somewhat different from steering a traditional riding mower. With some basic understanding of their operating controls and with practice, however, many individuals feel comfortable operating zero-turn mowers.
Start the zero-turn mower and adjust the throttle as needed to operate the mower.
Lower the control levers down and to the center, if needed, so that they are in the proper operating position.
Release the parking brake and place both hands on the control levers while they are both in the center or neutral position.
Push both levers forward at the same time using a slow and smooth motion to propel the zero turn mower forward. Push the levers forward for more speed.
Pull the levers back toward the center neutral position to slow and stop the mower completely.
Pull the levers back past the neutral position to move the zero-turn mower backward.
Return the levers to the neutral position and slowly push them forward. Push the left lever farther forward to turn right and the right lever farther forward to turn left.