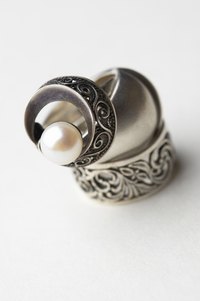 When polishing silver and pearl jewelry, it is best to steer clear of some of the recommended methods for plain silver cleaning. Pearls are too delicate for silver polish, toothpaste or baking soda and do not tolerate heat well. Because you need to use a good deal of pressure to remove tarnish from silver with a silver polishing cloth, this method is also not recommended.
Things You'll Need
Baby shampoo
Super-soft toothbrush
Prepare a room-temperature area for polishing.
Pour baby shampoo into a container big enough to fit the jewelry that needs polishing.
Dip the jewelry into the shampoo and gently rub the tarnished areas with the soft toothbrush. Keep brushing until you can see some of the tarnish start to disappear from the surface.
Wipe the jewelry with the soft cloth using very light pressure to remove any remaining tarnish.
Rinse jewelry and dry gently with clean, soft cloth.
Repeat this process five or six times for heavily tarnished pieces.