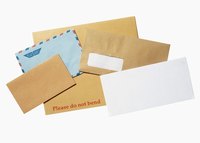 The U.S. Postal Service handles billions of mail items every year, but successful delivery is largely the responsibility of the sender. A wrong ZIP code, a missing apartment number or an improperly packaged shipment can spell delivery failure or even destruction for anyone's mail. Address and package your mail correctly and use the right postage and services to help ensure your mail is delivered in a safe and timely manner.
Package the Mail
Take care that your mail is properly packaged. The USPS has very clear guidelines for packaging mail -- from postcards to large parcels. Envelopes, large envelopes and boxes have size and weight restrictions; when in doubt, take your mail to the nearest post office and confirm that it will ship as packaged. Fragile or breakable items should be wrapped in foam or other protective material before shipping, since the postal service cannot guarantee careful handling of all fragile items.
Address the Mail Correctly
Double-check the number, street, city and ZIP code on your item before sending it through the mail. Keep in mind that postal employees do not validate addresses before providing postage; it is up to the sender to verify address accuracy. If the address is going to a building with several units, such as an apartment building, verify the apartment, suite or unit number. Do not rely upon a postal worker to know which unit is associated with the recipient of your item.
Affix Correct Postage
The type and amount of postage needed to ensure your mail is delivered can vary widely. Even a letter in a standard rectangular envelope may require more than one stamp if it is over a certain weight; insufficient postage will cause your mail to be returned. Verify your mail has the appropriate postage by taking it to the post office for weighing by a postal employee if you don't have a postage scale.
Protect the Mail
The U.S. Postal Service offers several options for ensuring your item is delivered to the right person at the right time. Certified Mail, for example, provides proof that you sent the item, while signature confirmation requires the recipient to provide his or her signature upon accepting the item. You may also use the Restrict Delivery service to ensure that only the designated recipient is allowed to take possession of the item. If the item is particularly valuable, purchase insurance; if the item is lost or stolen, you will receive the dollar value of the item as compensation.