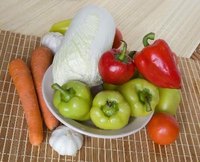 How to Cook for an Elderly Person. As people get older, they tend to eat less ' but good nutrition is more necessary than ever.
Things You'll Need
Fruits
Low-fat Food
Salt Substitutes
Whole Grains
Calcium Supplement
Vegetable Steamers
Control portion sizes. People need fewer calories as they get older, and they should eat a balanced, moderate diet to keep their weight under control.
Read the information that comes with all medications to find out if there are any dietary restrictions that accompany the medication.
Try to lower the sodium intake of a senior citizen, especially if he or she is at risk for high blood pressure.
Make sure there is lots of fiber in the food you serve; this helps prevent constipation.
Serve low-sugar foods if the person you are feeding has diabetes or is at risk of becoming diabetic. A good diabetic cookbook will contain many helpful recipes and hints.
Serve heart-healthy foods ' low-fat, low-salt and preferably prepared from scratch. Prepare lots of healthy whole grains and vegetables, and cut down on red meat.
Make sure there is lots of calcium in the food you are cooking, or offer an easily absorbed calcium supplement; this helps prevent bone loss and osteoporosis in older people, especially women.
Consult a hospital nutritionist or dietician if an older person needs to be hospitalized for any serious health problem; this will prepare you for any dietary restrictions or nutritional requirements that you may not have considered.
Serve food that is easy on dentures, if necessary. Some foods are too chewy or too sticky for denture wearers to eat comfortably.
Monitor alcohol consumption; although the occasional glass of wine with dinner probably can't hurt, and may even benefit the heart to some degree, it's not a good idea for people of any age to drink too much, especially if medications are involved.