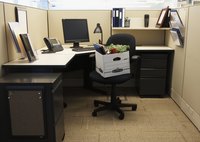 The phrase "separation of duties" in business means that each individual employee of a company is solely responsible for a specific job function. Usually, this person is responsible for that one function and no others. However, if a manager feels that an employee's position can be eliminated, he or she may decide to take that position's job duties and delegate them to the remaining employees. Separation of duties is also sometimes referred to as "segregation of duties."
Delegate work responsibilities to employees you feel can effectively and routinely handle the work. You should feel positive that the employee will be able to process the work assignments.
Create a flow chart that lays out the various areas that your company or department is responsible for. List the different job duties within each area.
Add job responsibilities onto the workload of an employee that coincides with their current job functions. All job duties should center around a particular category of work.
Provide training to employees who are taking on new, unfamiliar job functions. Make sure that you are available for support during training and to answer any questions.
Arrange backup roles. If your go-to person for a specific job duty is unexpectedly out, especially if they take leave for an extended period of time, you'll need another employee who can quickly take over the role. This employee should understand that they are only expected to do particular job functions in the absence of another employee. If this isn't clear, two employees could clash when the department is regularly staffed.