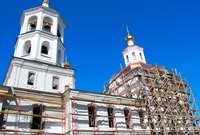 Churches and the faith for which they stand are the cornerstones of many communities. No longer are they just places to go on Sunday to receive a religious message; churches now have numerous community outreach programs. When it comes to raising money to build a new church, leaders and members alike must think creatively and outside the box to get the necessary funds for building.
Calculate the amount of money you need to successfully construct your church. Consider all costs: the lot of land on which the church will stand; construction of the actual church; and all of the interior and exterior elements, such as pews, stained glass, a preaching pulpit and interior rooms for various church groups. Use this information to set a fundraising goal.
Reach out to the community where your church is located for donations. Community members are often willing to make donations to organizations that provide a positive impact on the place in which they live, as churches do. Take out ads in your local newspaper letting people know you are building a new church. Rely on word of mouth to let others know you are in need of donations.
Orchestrate various fundraisers for the cause. This might be something simple, like a bake sale in the existing church parking lot or at a local community center, or something more elaborate like a gala to raise large sums of money. Set a predetermined amount of time to raise money; and try to schedule a fundraiser every weekend or every other weekend, so you are consistently working towards your goal.
Establish a building fund at the church and ask members to make a special donation at each service. They can either put this offering in a special tithing envelope or in the collection plate after the service. In most instances, if you put the onus back on the members to get you to the goal, they will respond.
Partner with a fundraising company to sell items for money towards your goal. Sell magazine subscriptions, food, candy, candles, toys or specialty items. This is similar to what schools do to raise additional capital. Some companies will allow up to 100 percent of the profit made from sales to go towards your cause.