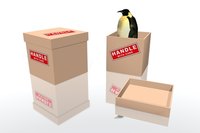 Having the ability to schedule Fedex pickups for packages offers you personal convenience, and if you own a business, it helps you remain competitive by not having to pay couriers or employees to take your packages to a drop-off location. Save time the next time you need to ship a package by learning how to schedule a Fed-Ex pickup. It takes only a few minutes online or a simple phone call.
Schedule Pickup Online
Obtain official Fed-Ex packing materials for your shipments by asking the Fed-Ex delivery driver for enough packaging materials if this is your first shipment while also asking her for supplemental supplies for future shipments. The Fed-Ex delivery provides supplies for the first shipment and brings additional supplies, typically within 24 hours.
Visit Fedex.com and click "Schedule a Pickup" from the "Shipping" Menu.
Register a new account, or login to your existing account using your username and password.
Identify the type of pickup by outlining the type of shipment as ground or air.
Selct a pickup time from the menu's drop-down option. You can select pickup times based on half-hour intervals.
Schedule Pickup by Phone
Phone Fed-Ex's toll-free number: 800-GoFedEx (800-463-3339).
State clearly "Schedule a Pickup" when prompted, or press 1.
State whether you want to ship via ground, air or FedEx Express.
State the weight of your package.
Write down your confirmation pickup code.