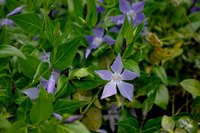 Botany is the study of plant life, including algae and fungi. One of the oldest sciences, it began with identifying edible and medicinal plants. Studying botany may start with researching first which area of botany interests you. Paleobotany, the study of fossils; physiology, the study of tissues; pteridology, the study of ferns; and pathology, the study of diseases, are the different disciplines in this science. The Botanical Society of America offers classes in conjunction with mentors for high school and continuing education students, and many colleges, like Texas Tech University, have online master's botany programs.
Listen to the podcast of Flora Delaterre, plant detective, on Arizona State University's website. She explains how man first used plants for medicines.
Find a mentor by joining the Botany Society of America's mentorship and education programs. Work together with your mentor on a selecting books to read, and submit a review to the Botany Society of America's website. Discover careers in botany.
Visit a local nature reserve, university life science department, science museum or nursery and use some of your new education in botany.
Propose a botany research project individually or with a group with Planting Science. Share your data online and receive feedback from the botany community around the world. Read about other research projects.
Apply for a university online degree program at the school of your choice. An Internet search can give you information about which universities offer botany degrees.