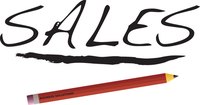 As companies move toward more efficient staffing, many substitute administrative positions with ones that bring in revenue such as sales positions. Even with a savvy approach, starting a sales program is challenging at best.
Hiring a strong salesperson is essential. According to John Asher, Chairman and CEO of Asher Training, "Instead of polishing up the perfect presentation, top sales people will ask about the prospect's issues, problems, pain and requirements. After they've unearthed all that, they offer a solution." Companies that develop a sales program from scratch need to define the ideal salesperson's qualities and skills prior to conducting interviews.
Draft a job description. Outline the duties and percentage of time that the salesperson spends on each. Tasks such as developing prospect lists, preparing quotes, delivering presentations and following up on leads should be included. Define the skills, including strong written and verbal communication, time management and organizational skills. Clarify if the position involves phone sales, in-person sales presentations, or a combination.
Determine ideal qualities. For example, a salesperson with empathy is valuable because he picks up on subtle clues that a prospect may give. Customers prefer straightforward salespeople who present products honestly. During the interview process, you can present scenarios and listen to how the candidate responds, to determine if the person possesses these qualities.
Decide on experience level. Should the salesperson have selling experience in your industry? If so, how many years? Also, consider if your company would benefit from a salesperson who has used or evaluated your services in the past. Many customers respond well to a salesperson who has previously worked in their industry.
Set monthly goals for number of phone calls, meetings, sales and sales dollars. Because the sales program is new, build in flexibility to adjust goals later as the position evolves.
Prepare sales materials, including presentation templates, brochures, and sales sheets. Include competitor comparisons, common sales objections and ways to overcome objections. Develop a list of training classes that the new salesperson will attend during the first few months on the job.
Advertise the position on industry websites. Ask colleagues for personal recommendations. Conduct interviews. Present and discuss the written job description, pay structure and goals. The more information that you provide to candidates, the clearer they will be about job expectations. Their reaction to the specific job requirements gives you a gauge as to how well they would perform in the position.