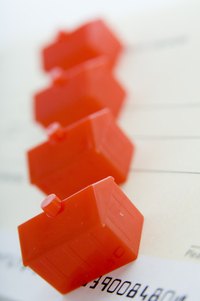 Every type of commercial building has certain characteristics or features that set it apart from all the others and could potentially change how it is classified, and it takes a trained eye to spot them. But, it's important to know what the lenders will look for when deciding to fund a commercial property. The quality or value of a building often determines what class the building falls under. Class A buildings have the best location, infrastructure, design and functionality, while class B is less in demand and class C the least desired of all.
Evaluate the location of the commercial property. Measure the size of the land and building. Get an estimate of the building's capacity for workers, equipment and customers. Does the building have a solid foundation? A good infrastructure can make the building more energy efficient, cheaper to maintain, yield a higher number of leases and ultimately rank higher.
Evaluate the quality of the surrounding area. Does the building fit the general feel and look of its environment? Keep in mind that the parking situation is important too. Note any amenities the property may have to make it more visually appealing or commercially viable. Take into account what freeways or toll roads the building has convenient access to. The best locations yield Class A buildings, while less desirable areas attract Class B or C.
Analyze the income of the commercial property. Use its net operating income before debt and depreciation for a single year. Then take that number and divide by its capitalization rate. That will give you a general idea of how profitable the property is. Note whether or not the property is fully leased, how well its been maintained and how high the expenses are.
Find out what the building was originally designed for. Is it currently being used for that purpose or function? Do some research and determine what level of demand exists for that purpose or function.
Find out how old the building is. Buildings more than 25 years old often are Class C, and are less desirable. This isn't the case if a good renovation has been completed. For example, if a Class B building has a decent location, and is renovated well, it can move up to Class A.