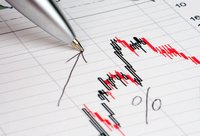 Key performance indicators (KPI), series of data, tell a story by measuring performance of processes within a firm. The tracking of a KPI in the form of a rate or a percentage can help management determine whether current operations are generating a profit or loss. Management uses analysis drawn from KPIs to make strategic decisions to enhance productivity. For example, tracking voluntary attrition can provide insight into whether the firm is losing its top talent or spending more than it should on recruitment to fill open positions.
Gather year-to-date data on permanent employees and voluntary leavers from the HR system database. Base year-to-date employee data on month-end snapshots.
Calculate the average number of permanent employees by adding month-end totals and dividing by the number of months. For example, if running the year-to-date average in April, use the following formula:
(Jan+Feb+Mar)/3 = average number of employees
Calculate the percentage of voluntary attrition by dividing the average number of employees by the year-to-date number of voluntary leavers.