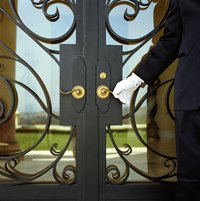 Formal gloves may be less common than they once were, but they remain an elegant addition to particularly formal events, including black-tie weddings, balls or even a high school prom. Evening gloves differ in length, fabric and style, but should match your formal attire. Learn when and where to wear your gloves and be smart about when and where to remove them.
Glove Styles
Gloves are identified by length. An opera-length glove covers much of the arm, extending to the middle of the bicep or slightly higher. An elbow-length glove covers the forearm, but does not cover the elbow. A wrist-length glove covers the hand and wrist, but does not extend to cover the lower forearm. While women may wear any of these three in a variety of materials, including satin and kid leather, men only wear formal, wrist-length gloves in kid leather.
Matching Gloves to a Gown or Suit
There's a relatively simple rule for matching a pair of evening gloves to your gown: The shorter the sleeve, the longer the glove may be. For instance, a gown with an elbow-length sleeve is best paired with a wrist-length glove, while a strapless gown could be paired with an opera-length glove or a shorter one if you prefer. Longer gloves do appear more formal than shorter varieties, and a short glove can be worn with a sleeveless or strapless gown if you'd prefer not to make your dress look more formal.
Choosing Colors
Gloves are available in white, ivory or black, as well as fashion colors. While there are no set rules for combining colors, very dark gloves should not be worn with a very light gown. Black gloves may be worn with dark gowns of all colors. White kid gloves are most traditional for men; however, many men opt for black kid, as it does not show soil. Both men and women are expected to wear white kid gloves for debutante balls, but many other formal occasions have less set expectations about color or material.
Where to Wear Them
Formal gloves can be worn to any black-tie occasion. If a gown or tuxedo is appropriate, gloves will add a formal, finishing touch. Brides and bridesmaids may opt for gloves in any length, but bridesmaids should wear gloves of the same length. Wedding guests at formal weddings can also wear gloves with their gowns, but do keep the formality in mind. Long gloves make even a simple gown look more formal, while a short glove typically appears less formal.
Glove Etiquette
Both men and women should wear their formal gloves indoors and while dancing, but neither should wear gloves while eating. Short or elbow-length gloves should be discreetly removed and stored in a handbag or jacket pocket. Opera-length gloves may be removed if they do not have buttons, but many do. An opera-length glove with buttons should be unbuttoned and the hand removed, with the sleeve or arm of the glove left in place. The hand can then be neatly folded and secured into the button band of the sleeve during meals.