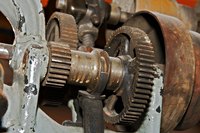 Steampunk, a subculture based on a genre of speculative fiction that combines a Victorian setting with futuristic sci-fi and an industrial edge, has been steadily growing since its inception in the 1980s. As with many subcultures, steampunk devotees like to look the part and the movement has certainly left its mark on fashion. The look is defined by corsets, Victorian dresses, waist coats, metal accessories and vintage goggles. Steampunk clothing is relatively easy to find if you seek out specialty internet sites or niche boutiques, but you can save a lot of money by piecing together your own steampunk outfit.
Putting Together Your Steampunk Ensemble
If you're not already immersed in the world of steampunk, you ought to do some research before getting started. While the basis of steampunk is typically Victorian-style clothing, it is the details that transform an outfit from an old fashioned costume into real steampunk. Read some steampunk literature and visit some of the subcultures blogs online. Getting the look just right is the key to successful steampunk couture.
Put together the main garments of your outfit. If you're a woman, this likely means a corseted Victorian day gown. If you're a man or a woman who prefers not to wear dresses, the choice is usually trousers, a collared shirt and a waist coat. You may be able to find suitable men's items in a thrift store. Victorian gowns are not as easy to come by secondhand. Many major sewing pattern companies offer patterns for Victorian-style costumes. Buy one of those, but rather than mimicking the brightly colored dresses on the pattern, choose dark or drab colored fabrics.
Add some metal accessories. Part of what defines steampunk is metal accessories that invoke the industrial revolution. Use gears or other bits of metal to make jewelry or other accessories. Add some rivets to your clothing to enhance the effect. If you're truly adventurous you can even attempt to make you own pair of metal goggles out of mason jar lids and scraps of leather.
Finish your look by buying the proper shoes (lace-up granny boots for ladies, work boots or shoes with spats for men) and other accessories such as vintage glasses, pocket watches, canes or parasols.