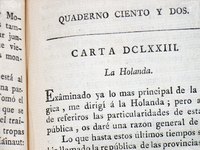 If you have a Web site, article or song written in Spanish and cannot find an English version, translating it yourself may be easier than you think. Translating sentences may be intimidating to someone who is not bilingual or who has not had extensive foreign language experience, but the process is now accessible to more people with the help of online translators and dictionaries. With a basic understanding of English and Spanish grammatical structures, you can form translations that make sense in English and still capture the meaning of the original text.
Using a Translator
Copy and paste the text into an online translator tool. Select Spanish for the original text and English for the translated text. Plenty of free translation services are available online, most of which give you an idea of what the original text is saying. You can translate as little as one word or sentence, or as much as a few paragraphs at one time.
Reorder the words so that they make sense in English. The words that come back will all be in English, but few sentences will be properly structured. Online translators only switch the individual Spanish words to individual English words, in the exact order as in the original text. For example, adjectives follow nouns in Spanish, while adjectives precede nouns in English. Therefore, if 'perro grande' comes back translated as 'dog big' in English, you will need to switch it to 'big dog' in order for it to make sense.
Check the spelling of words that did not translate. If a word has been misspelled before translation, it will not translate until you spell it correctly. Make sure nouns are the correct gender (usually ending in –o for masculine or –a for feminine), verbs are conjugated properly, and that you haven't missed double r's or double l's, which are common. Also, make sure words are accented properly; while 'cómo' means 'how,' for example, 'como' means 'as.' Also watch for tildes, because 'año' means year, but 'ano' is a part of the body.
Using a Dictionary
Look up the words individually in a Spanish-English Dictionary. Once you know what each word means, arrange the translated sentence or paragraph in exactly the same word order as the original text. This will allow you to conform the translation to English grammar rules.
Identify the parts of speech of each word in the sentence. Just like in English, Spanish sentences are made up of nouns, verbs, adjectives and articles. A noun is either masculine or feminine (ending in –o or –a), and is typically preceded by an article ('el,' or 'la,' meaning 'the'). A verb in its infinitive usually ends in –ar, –er or –ir and is conjugated according to the subject. An adjective will end in –a, -o or –e depending on which word it describes, and it follows the noun it modifies.
Change the order of the words so they match English grammar rules. You can most likely do this intuitively, but if you are unsure of the exact wording for a sentence, infer it based on the context. Some expressions in Spanish may not perfectly translate into English, because what can be described by one word in one language often takes more words to express in another.