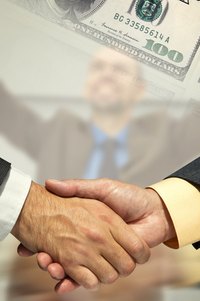 Finding customers for your business-to-business (B2B) company can be a bit overwhelming if you don't know where to start. The key to success for your B2B enterprise will be how well you are able to sell your company and your services to potential clients. Try to employ more than one of the strategies listed below for the best results.
Things You'll Need
Use pay-per-click advertising (PPC). PPC advertising allows you to advertise your business on search engines. It works by bidding on keywords pertaining to your company and having your company's text-based advertisement run next to the search engine results. Whenever someone clicks your ad, you pay a fee that varies depending on how popular the keyword is. Two examples of PPC vendors are Google Adwords and Yahoo Search Marketing.
Use a direct approach. Sometimes using the old fashioned method of soliciting businesses directly is most effective. Businesses publish their contact information in the yellow pages and on their website. Email or call them and tell them about your services. Highlight exactly why they need your services and what benefits they can expect to reap. If your product or service is truly worthwhile, this approach will be effective.
Start a reseller program. Seek out B2B companies that offer products that compliment yours. Explain to them what you offer and how you could form a mutually beneficial relationship with them. You refer your clients to them and they refer theirs to you.
Use social networking to expand your reach. Many companies are using social networking services like Facebook and Twitter to reach out to clients and potential clients. Offer free tips or articles pertaining to your field of work. Providing useful information for free is a great way to lead customers to your business. Consider starting a blog that focuses on topics relevant to your industry. Over time, you can create the image of your business as a trusted authority in the industry.