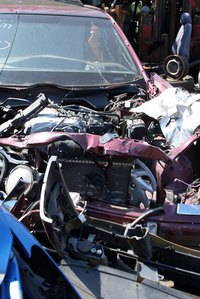 About six and a half million car accidents happen every year in the United States, according to the Automotive website. If you are unfortunate enough to become part of this statistic, you may have to "total" your vehicle. To total a vehicle means that repairing the vehicle would cost at least 70 percent of the value of your car prior to the accident--in some states the total rule is as high as 90 percent. You must settle your insurance claim when you total your vehicle. With preparation, you can get your insurance company to give you a fair offer.
Contact your state's Department of Motor Vehicles or check your state's website for the settlement threshold for your state. The settlement threshold will be 70 to 90 percent of the value of your car. You'll need this percentage to determine whether the insurance company is being truthful if they claim your vehicle isn't a total loss.
Visit dealerships, use the Kelly Blue Book and visit automotive websites to find vehicles like or comparable to yours. Like vehicles are vehicles of the same make, model and year with the same features or wear. Comparable vehicles may not be a "match" to yours and don't need to be by the same manufacturer, but they are in the same price range and have the same features. This will give you the "going price" for your vehicle.
Get repair estimates in writing from reputable automotive shops.
Compare the repair estimates to the settlement threshold for your state to verify that the vehicle is a total loss.
Calculate the cost of additional services such as car rental related to replacing your vehicle.
List features present in your car that add value to the car. This might include items like a new speaker system or tires or modifications for a disability. Your insurance company will ignore these items unless you make a case for what they are worth.
Ask your insurance company to give you a copy of the insurance inspector's report. The insurance company uses this report to get a value for your vehicle from third party companies, the most popular of which is CCC Information Services Group, Inc. Dispute any inaccuracies in the report.
Ask your insurance adjuster if the offer he is presenting is final. He likely will tell you that it is, although he may be authorized to change the offer by a few hundred dollars. Ask to talk to the adjuster's supervisor if he says the offer is final to verify the offer and try to present your case for a better settlement to someone higher up.
Give the insurance company your evidence for why you are rejecting the claim in writing, or tell your insurance adjuster or agent in writing that you will accept the settlement offer.
Continue negotiating until you feel your offer is fair, or until it is clear that neither you or the insurance company will budge. Do not sign the settlement agreement until a lawyer has reviewed it for you. Hire an attorney to file a lawsuit on your behalf if you truly believe the insurance company is cheating you.