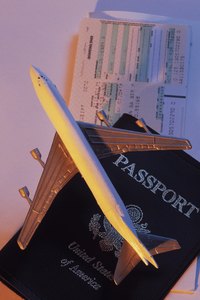 Checking fare prices regularly can help you get good deals on flights at delta.com. But what if you find a better deal with a discount travel booking site later? Or what if the price goes down on Delta's own website? Delta's Best Fare Guarantee assures you that if the price goes down within 24 hours, you'll get a refund for the price difference and an additional voucher to apply towards future travel with Delta.
Things You'll Need
Confirmation number
Credit card number
Eticket number
Web address for competing fare
Risk-Free Cancellation
Go to Delta.com and click the "Itineraries and Check-In" link under the "Traveling and Check-In" tab.
Enter your confirmation number, credit card number or eticket number, along with your name, and click "search" to find your flights.
Click "Cancel your Flight" to receive a full refund on your credit card. Cancel you flight by midnight on the day after you've purchased the eticket to be eligible for a full refund.
Price Difference Refund
Click on "Plan a Trip" under the "Planning and Reservations" tab on the Delta website to begin.
Find the "Best Fare Guarantee" page under the "Online Reservations" tab.
Click on "Submit a claim" to fill out the claim form.
Enter your personal information, confirmation number and dates of the flight you've booked.
Copy and paste the link to the site when you've found a better fare, and the amount of that fare, in the appropriate boxes.
Click "Go" to submit your claim. Delta will verify the claim, issue a refund of the price difference to your credit card and give you an electronic travel voucher within 24 hours.