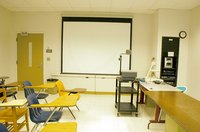 To customize your curriculum vitae (CV) to a career in teaching, focus on your teaching experience, your education and teacher training, and the reasons you would make an effective teacher. As with any CV, use white or mildly colored pastel paper, a 10 to12 point font, and keep it under two pages.
State your objective. Write the specific type of teaching post you are applying for. If it is with a particular school or for a certain grade or subject, include that in the objective.
List your teaching experiences, beginning with the most recent first. Include all of your paid and unpaid teaching experience. Student teaching, aiding, practicums, and volunteering should be included. State where and what you taught, and what school or institution you worked for. Write the ages or grades you taught, as well as any behavior management techniques, curricula, or other particular teaching-related skills you used in each post. Include the dates you taught next to each listing. Under each listing, include specific skills you used or developed.
Starting with the most recent school and working your way towards the earliest, list your educational background. Include college and high school education, workshops you have attended, and any teacher training courses you have completed as well. Note any special courses or projects you undertook during school.
List other positions you have held, where they were located, and the dates you worked there. Include awards or accomplishments in teaching you have earned. List the organizations of which you are a member as well.
List at least two references and their contact information at the end of your CV, at least one of whom is a professional in the field.